Jackline Nasiwa
Ms. Jackline Nasiwa holds a Bachelors of laws from Makerere University and a Masters in International Law from Oxford Brookes University majoring in International Law and International Human Rights Law. Ms. Nasiwa has a passion for promoting gender inclusion and protection of women rights and rights of children and a strong advocate of peace, transitional justice and good governance. She has a strong international personal skills, leadership, communication skills and conflict resolution skills. Ms. Nasiwa has a strong written and spoken command in English and adopts easily to changes and different cultures.
She is an experienced international law lawyer, rule of law specialist and peace building expert based in Juba, South Sudan.  As part of PILPG's work in South Sudan through the SUCCESS Consortium, Ms. Nasiwa was PILPG's South Country representative and  Program Specialist providing technical assistance to South Sudanese civil society actors to more effectively engage in both formal and informal peace processes, including matters of transitional justice, traditional justice, constitutional development, good governance and civic engagement.  She is also supporting women's participation on political processes including the peace process and constitutional development. Prior to joining PILPG, Ms. Nasiwa worked with the National Democratic Institute as the Senior Manager on Constitutional Development. She also has previous experience with the South Sudan Referendum Bureau, the International Development Law Organization, and the United Nations Development Program.
In October 2017, Ms. Jackline founded a national Non-Governmental Organization in South Sudan, The Centre for Inclusive Governance, Peace and Justice (CIGPJ) that works for gender inclusion, peace building/reconciliation, access to justice and good governance. Ms. Jackline has passion for women's leadership in South Sudan and strives towards a society that values human dignity, women's empowerment for development that is founded on the principles of good governance, justice and rule of law.
"Civil society is not an enemy. Civil society organizations play an important role in monitoring and in bridging the gap between the government and citizens, through delivery of humanitarian assistance, peacebuilding, protection of human rights and promoting good governance."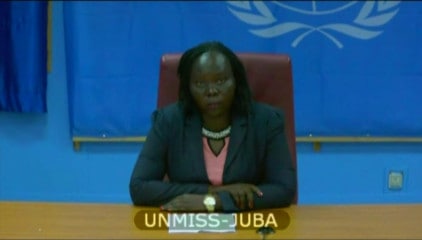 (Jackline Nasiwa in speaking to UN Security Council in May 2018)
At the Security Council
Jackline Nasiwa, representing the civil society organization Centre for Inclusive Governance, Peace and Justice (CIGPJ), was invited to provide a civil society perspective and recommendations when the Security Council met to discuss the situation in South Sudan on 8 May 2018 and 3 March 2021. The NGO Working Group on Women, Peace and Security facilitated her statements but she did not speak on behalf of the NGOWG.