Nujeen Mustafa
At sixteen years old, Nujeen Mustafa made the 3,500-mile journey from Syria to Germany in a steel wheelchair. She has since become a powerful advocate for the rights of refugees and people with disabilities, sharing the harrowing story of her journey to move hearts and change policies.
Nujeen was born with cerebral palsy, unable to walk without assistance. In her home city of Aleppo, Syria, she never attended school. She taught herself English by watching American soap operas.
As the forces of ISIS and Syrian President Bashar al-Assad escalated violence against civilians, Nujeen and her family fled to Turkey. Together with her sister, Nujeen soon embarked on a grueling sixteen-month journey by foot, boat and bus. They crossed the Mediterranean Sea to Greece and struggled northward through Macedonia, Serbia, and Hungary, finally arriving in Germany.
Throughout the ordeal, Nujeen refused to give in to despair or see herself as a passive victim. As she told a BBC reporter in a now viral video: "You should fight to get what you want in this world."
Nujeen's testimony, chronicled in a book co-authored by Christina Lamb—The Girl from Aleppo: Nujeen's Escape from War to Freedom—has inspired millions. Her persuasive speaking has also fueled reforms on a global scale.
"While living in a country at war is daunting for anyone, it is particularly challenging for someone with a disability. The structure of supports that people with disabilities rely on is broken down during a conflict, leaving us at a higher risk of violence and with more difficulties in getting assistance - especially for women."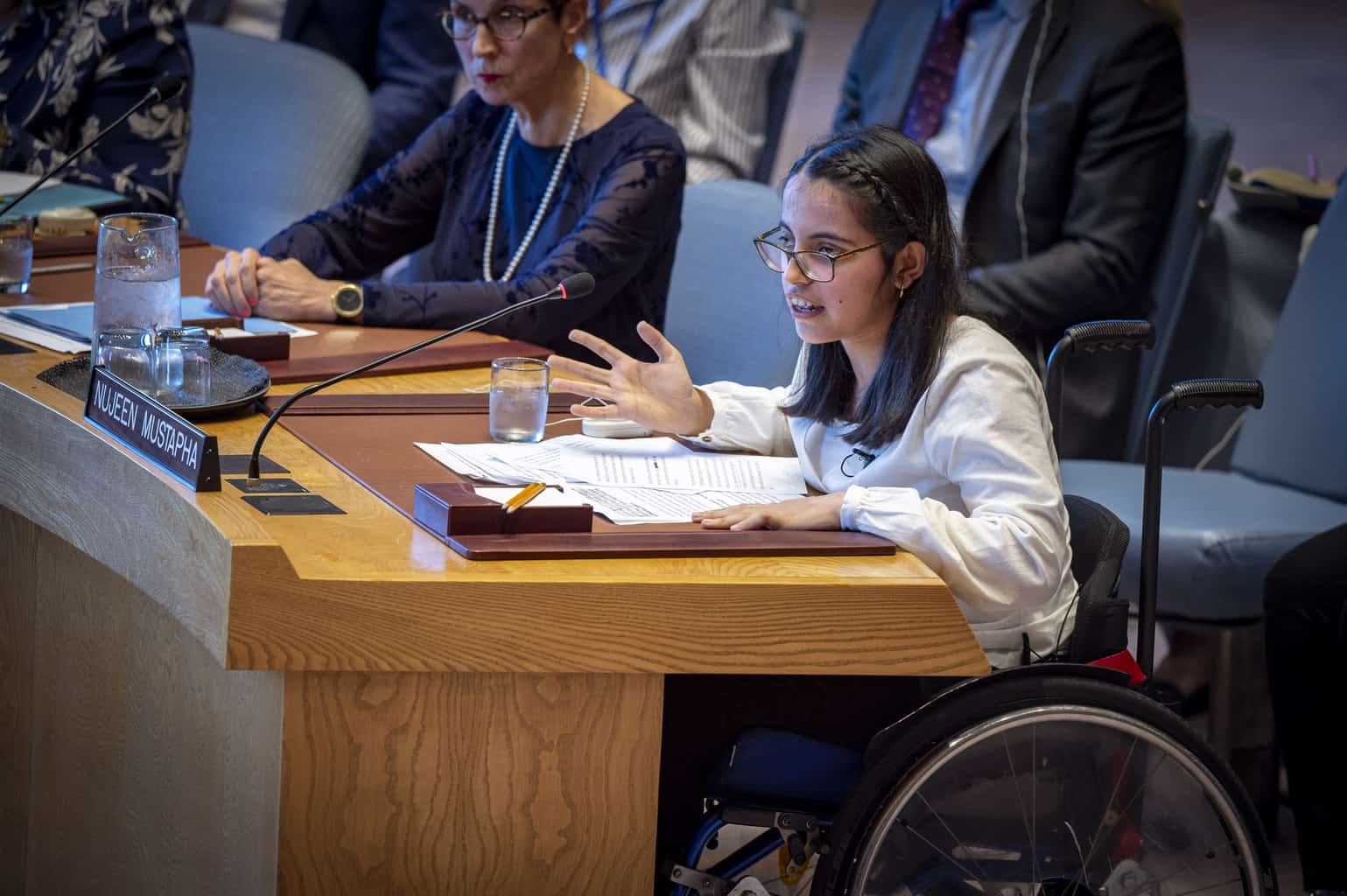 (Picture courtesy of UN Photo)
At the Security Council
Nujeen Mustafa, a refugee and disability rights advocate, was invited to provide a civil society perspective and recommendations when the Security Council met to discuss the situation in Syria. The NGO Working Group on Women, Peace and Security facilitated her statement in partnership with Human Rights Watch and Crisis Action, but she did not speak on behalf of the NGOWG.