Radhya Almutwakel
Radhya al-Mutawakel is a human rights defender. She is the chairperson and co-founder of Mwatana Organization. Mwatana is an independent Yemeni organization aiming to defend and protect human rights depending on investigative research methodology to issue statements, reports, and documentary films. Mwatana also works on advocacy, human rights awareness, training, and providing legal support to the victims of arbitrary detentions and forced disappearances.
Radhya al-Mutawakel has been working in the field of human rights since 2004 covering different topics including war crimes, arbitrary detentions, enforced disappearance, and freedom of press.She has worked with the Open Society Foundations to document civilian casualties in Yemen, and has also assisted Human Rights Watch and Amnesty International. She has been invited to present her work at numerous international events and forums, including at a hearing of the European Parliament. This month, Almutawakel was awarded the "Global Advocate Award" from the Columbia Law School Human Rights Institute and invited to be a "Practitioner-In-Residence" at Columbia Law School. She graduated from the Faculty of Mass Media Communication and holds two high diplomas on gender studies and political science.
"Yemenis today need the international community and the Security Council to fulfill their responsibility to protect them. Throughout the last three years of war, all parties to the conflict have committed grave violations of international humanitarian law and international human rights law. This cannot be allowed to continue unchecked."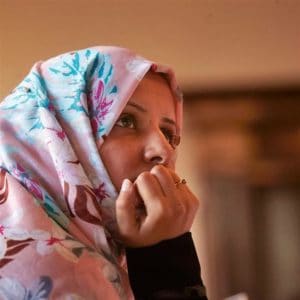 (Mwatana Organization)
At the Security Council
Radhya Almutwakel, representing the Mwatana Organization for Human Rights, was invited to provide a civil society perspective and recommendations when the Security Council met to discuss the situation in Yemen. The NGO Working Group on Women, Peace and Security facilitated her statement but she did not speak on behalf of the NGOWG.