Rosa Emilia Salamanca
Rosa Emilia Salamanca is building the path to peace in Colombia by defending women's rights. She is Director of the Institute for Social and Economic Research and Action (CIASE) an organization working for peace human rights and democracy from a feminist perspective. As part of the women's movement in Colombia Ms. Salamanca has worked intensively on the peace process between the Colombian government and the Revolutionary Armed Forces of Colombia contributing to one of the most inclusive peace agreements in the world. Ms. Salamanca facilitates dialogue and generates strategies for sustaining peace as a mediator in the Women Peace and Security Collective for Reflection and Action. The collective brings together 100 women from more than 50 Colombian organizations to lobby together for an end to conflict despite their diverse political social economic and ethnic heritages. "When you're building a new architecture for society" Ms. Salamanca says "peace is about acknowledging difference beyond putting down weapons."
Ms. Salamanca also leads a working group officially recognized by the Ministry of Defense that advises the national armed forces on the varied security needs and priorities of women across the country. By creating space for exchange between the women's collective and female members of the armed forces she is contributing to the transformation of the security sector's approach to women and society at large. To further sustain change Ms. Salamanca manages curriculum development and trainings on conflict resolution democratization and human rights issues at CIASE. She is a member of Colombia's Women and Peace Summit and is a Pax Christi International Peace Laureate.
The conflict in Colombia is a complicated one; government, insurgent, and counter-insurgent armies—none strong enough to overcome the others—have clashed often in the past four decades. With a history of involvement in the NGO community, Rosa Emilia Salamanca is senior adviser to and former executive director of Colombia's Association of Interdisciplinary Work, which strengthens civil society and builds consensus through communication, education, and community work. Ms. Salamanca develops innovative peace-education curricula and trains community members, teachers, and officials in conflict resolution, democratization, social development, and human rights—key elements of civil society's attempts to end the country's 40-year conflict. Through her affiliation with groups like the National Women's Network, she has participated in negotiations and attended the National Peace Assembly. Her organization was part of the historic October 2001 Costa Rica II meeting, where Colombian government officials, guerrilla leaders from the National Liberation Army (ELN), representatives of civil society, and international observers discussed alternatives for resolution of the conflict.
"No olvidemos, cuando hablamos de paz en el día a día, para las mujeres, para los hombres significa aceptarse en la diversidad y en la diferencia...Es tener futuro que no cueste la vida."
"Let's not forget, when we talk about peace on a day-to-day basis, for women, for men it means accepting ourselves in diversity and in difference ... It is having a future that does not cost life."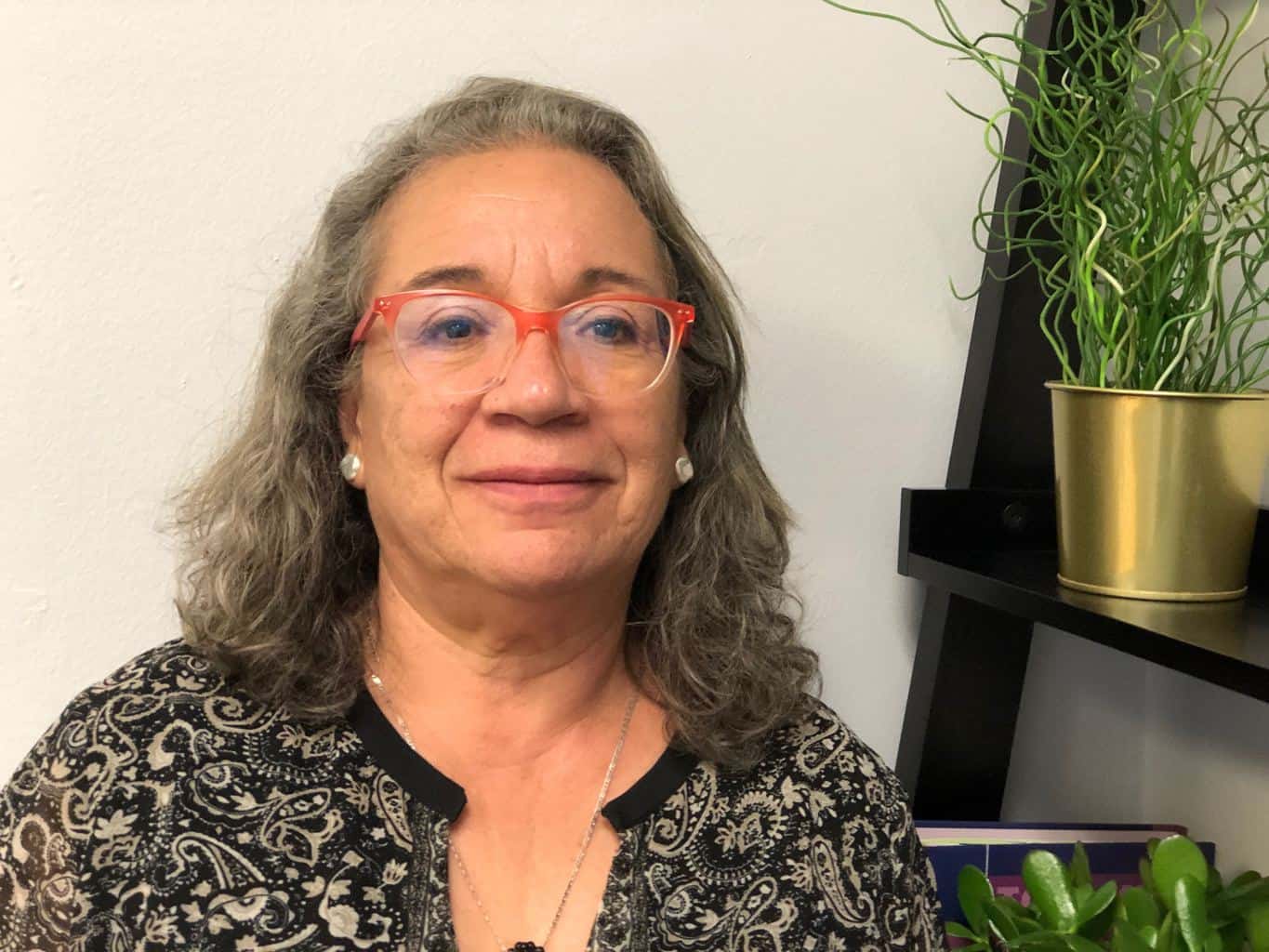 (Photo: University of San Diego, October 2018)
At the Security Council
Rosa Emilia Salamanca, representing the organization Corporación de Investigación y Acción Social y Económia (CIASE), was invited to provide a civil society perspective and recommendations when the Security Council met to discuss the situation in Colombia. The NGO Working Group on Women, Peace and Security facilitated her statement but she did not speak on behalf of the NGOWG. Ms. Salamanca delivered her statement in Spanish.