Amal Kabashi
Ms. Amal Kabashi is the coordinator of the Iraqi Women's Network (IWN), a civil society collective established in 2004 and composed of more than 100 women's organizations and groups from all over Iraq. The IWN leads many campaigns and initiatives for women's rights and gender equality, and enhancing women's role in decision-making positions and in sustainable development. Ms. Kabashi is actively involved in civil society advocacy campaigns on Iraqi legislation, including the Anti-Domestic Violence Law, National Strategy on gender-based violence, National Strategy on Advancement of Women, and National Action Plan (NAP) on Resolution 1325. In October 2019, she led the IWN's advocacy delegation to the CEDAW Committee's review of Iraq, advocating for the incorporation of specific questions related to the Iraqi government's policies on women's rights. She has also participated in drafting civil society monitoring reports on the implementation of Security Council resolution 1325 in Iraq.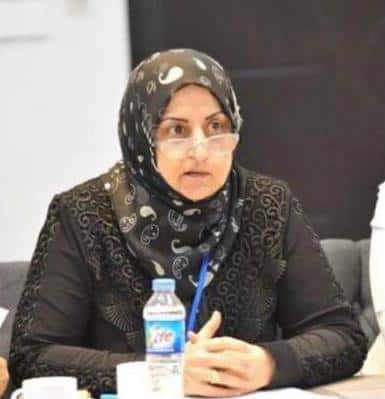 At the Security Council
Amal Kabashi, Coordinator of Iraqi Women Network, was invited to provide a civil society perspective and recommendations when the Security Council met to discuss the situation in Iraq. The NGO Working Group on Women, Peace and Security facilitated her statement but she did not speak on behalf of the NGOWG.