Randa Siniora
Randa Siniora is a Palestinian human rights and women's rights defender with over 30 years of professional experience in the field of international human rights and humanitarian law.  Randa has the professional experience in addressing human rights issues combined with the managerial skills to manage human rights organizations.
Since 2015, she has been the General Director of the Women's Center for Legal Aid and Counseling (WCLAC). WCLAC provides Legal Aid and Counseling for women's victims of Gender Based Violence and works towards gender equality and non-discrimination against women in all aspects of Palestinian life.  
Prior to joining WCLAC, Ms. Siniora was the Senior Executive Director of the Palestinian National Human Rights Institution the "Independent Commission for Human Rights" (from September 2007- June 2015) and was previously the General Director of Al-Haq/Law in the Service of Man (2001-2005), one of the most prominent NGOs in Palestine with a consultative status with UN ECOSOC. She was also a Human Rights Specialist with the Secretariat for the support of human rights and good governance organizations in the occupied Palestinian territory (oPt) (2006-2007) and the Head of the Advocacy and Networking Department at the Women's Center for Legal Aid and Counseling (1997-2001).  
Ms. Siniora has played a leading role in the Palestinian Women's Coalition for UNSCR 1325 and was instrumental in developing and pushing for implementation of the 1325 National Action Plan in Palestine. She is a member of the civil society network on WPS in Palestine that successfully pushed for women to engage in the reconciliation process between Fatah and Hamas, which was previously closed to women. She can also speak to Palestinian women's experiences in previous peace processes between Israel and Palestine. Ms. Siniora was nominated by the Minister of Women's Affairs to be on the National Committee of UNSCR 1325 where she advises on its implementation. Ms. Siniora has also trained women leaders, especially young Palestinian women, on UNSCR 1325 in order to advance political participation, protection and promotion of women's rights.
She has long-standing experience in engaging with the UN Human Rights machinery for the protection and promotion of human rights and has acquired extensive experience regionally and internationally through the active participation in regional and international networks and forums. Furthermore, Ms. Siniora has a strong experience in strategic planning, review, evaluation and capacity assessment of human rights organizations and is also a professional trainer in the field of human rights, gender and women's human rights. Lately, she has successfully engaged in training and capacity building of newly established national human rights institutions in the Arab World (Iraq, Oman, Bahrain, Sudan, Tunisia).
"Palestinian women who have grown up under the occupation have been on the frontlines defending our lands, our homes, and our families. We continue to lead efforts to demand accountability and advocate for equality. We therefore have not only the right, but also the ability, the expertise, and the experience to forge the path to a sustainable, just and durable peace."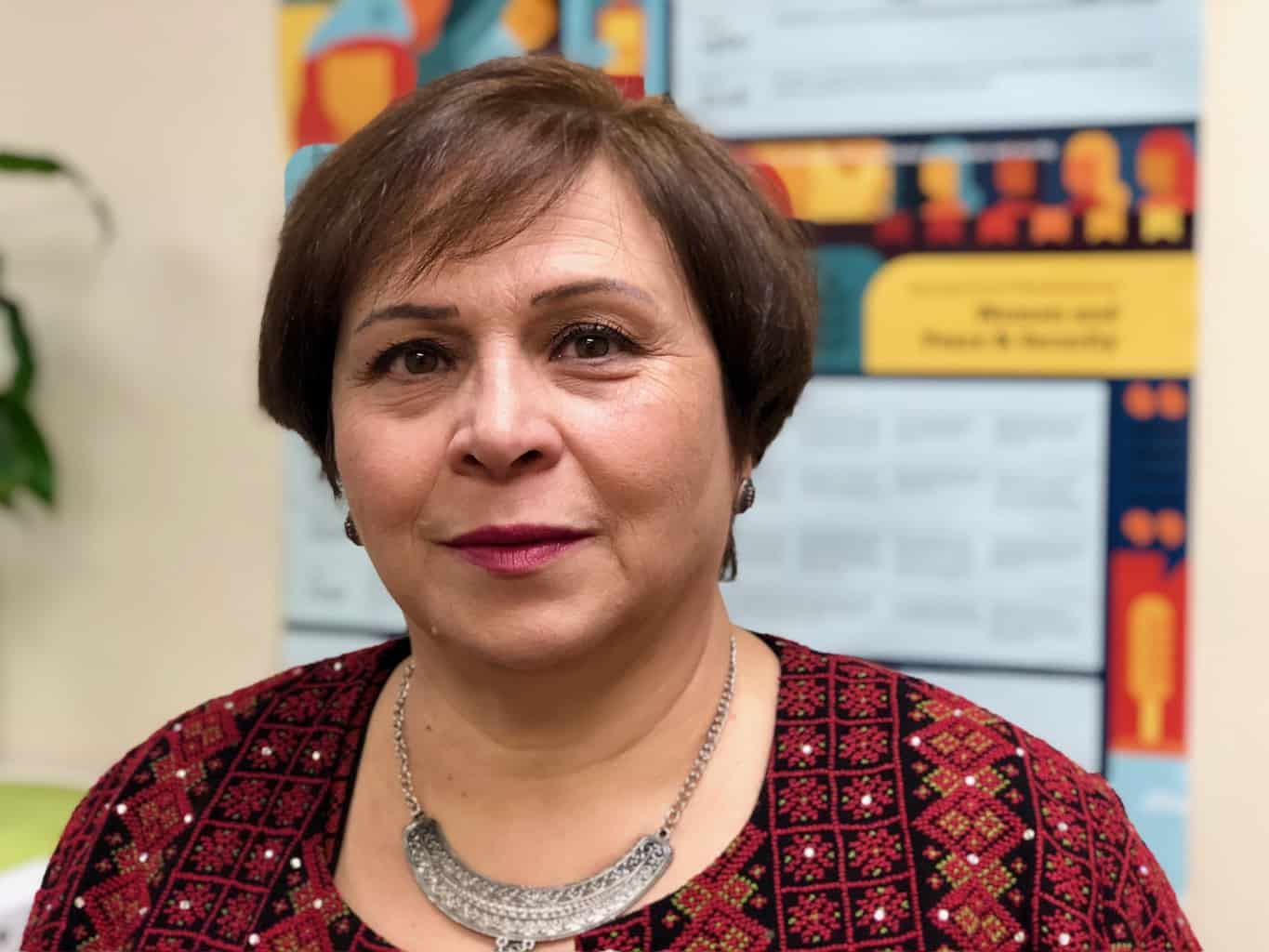 (Photo: Gabrielle Belli)
At the Security Council
Ms. Randa Siniora was selected to represent civil society in her capacity as General Director of the Women's Centre for Legal Aid and Counselling (WCLAC), and on behalf of the NGO Working Group on Women, Peace and Security at the United Nations Security Council Open Debate on "Women and peace and security" in October 2018.