Suaad Allami
Ms. Suaad Allami is a prominent Iraqi women's rights leader and attorney.  A graduate of Baghdad University School of Law in 1992, she has practiced law in Iraqi family courts for 17 years. She is a founder and chair of Women for Progress Center (the first legal aid clinic in Iraq) as one-stop-center in Baghdad which deals with victims of GBV/SGBV/DV and children to provide them free of charge legal assistance, medical and socio-psycho treatments and economic empowerment. She has participated in many national, regional and international workshops, conferences, trainings, seminars and programs inside and outside Iraq. Ms. Allami has also represented Iraq in many events outside her country; she was a trainer in countless sessions on women's rights, gender-based violence and related issues. She spoke at distinguished universities and think tank centers, including the Woodrow Wilson Center, Harvard University J. Kennedy Center, University of Minnesota Law School, and William Mitchell University Law School in Saint Paul/ Minnesota.
Ms. Allami has, additionally, supervised five comprehensive women's centers throughout Baghdad and oversaw the first continuing education conference for women's lawyers.  She is a former member of the Baghdad Provincial Council and Sadir City District Council (2004-2009) and author of the By-Law for the District and Sub-District Councils of Baghdad Province. In 2008, Ms. Allami was named  the Female Lawyer of the Year by the Iraq Women's Foundation. She received the International Women of Courage Award in March 2009 from then US State Secretary Hillary Clinton and First Lady Michelle Obama. She was also the recipient of the Massachusetts Bar Association Public Service Award in May 2010. Ms. Allami is alumna of the Humphrey Fellowship 2009-2010 (Fulbright) from the University of Minnesota Law School. She completed her Master's degree (LLM) in International Human Rights Law from the University of Minnesota Law School in 2011. Ms. Allami  was honored with the Global leadership Award (Fern Holland Award) from Vital Voices Global Partnership in June 2014.
In 2012 Ms. Allami published an article in the National Association Women's Lawyers' Journal (NAWL) as a co-author, entitled, "The United States and women's rights in Iraq: Legacy Interrupted".
"Women must fully participate and be consulted systematically in decision-making, across all displacement settings, in humanitarian programming, and, of course, in the broader political, security and peace processes. Supporting women's civil society and human rights defenders is key – both politically and financially."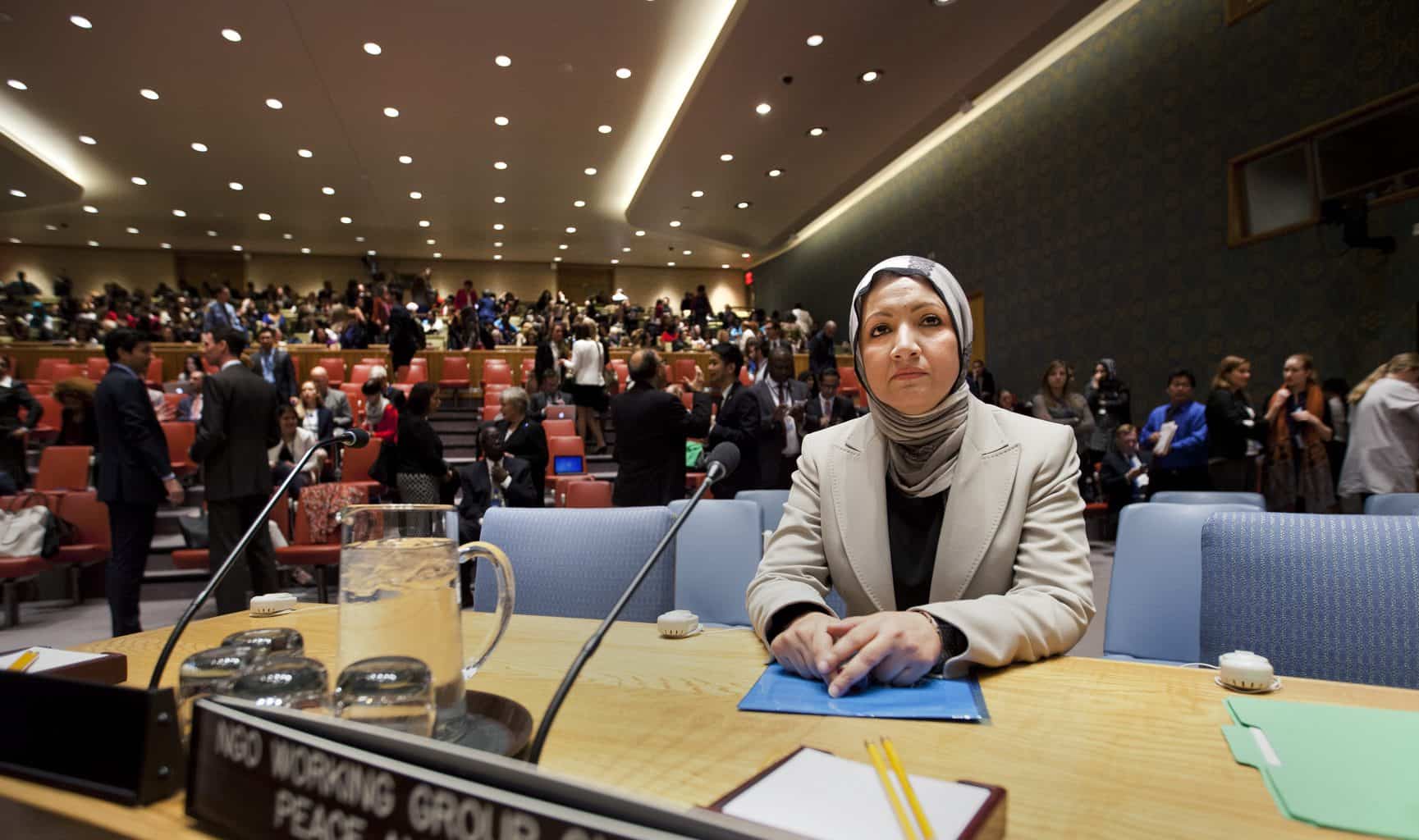 Photo by Ryan Brown / UN-Women
At the Security Council
Ms. Suaad Allami was selected to represent civil society and spoke in her capacity as Founder and Director, Sadr City Women's Center and Legal Clinic and on behalf of the NGO Working Group on Women, Peace and Security at the United Nations Security Council Open Debate on women and peace and security.