Human rights defenders, peacebuilders and civil society space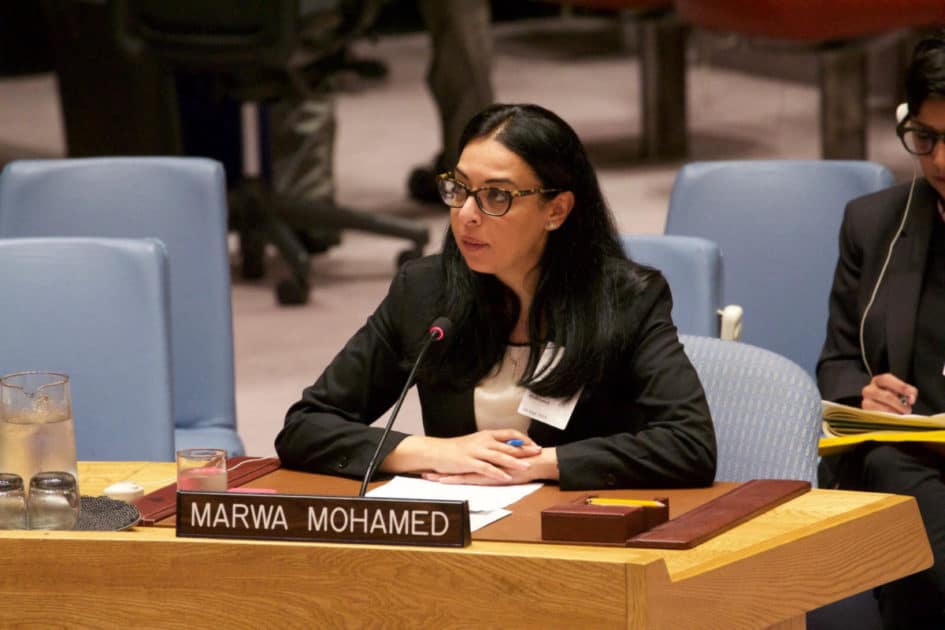 Women human rights defenders (WHRDs) refer to all women — including Indigenous defenders, defenders from cultural, ethnic and religious minorities, those with diverse sexual orientations, gender identities, gender expression and sex characteristics (SOGIESC) — who defend any human rights, as well as people of all genders who defend gender equality and women's rights.[1] The work of WHRDs and peacebuilders is integral to the promotion of human rights, prevention of conflict and ensuring sustainable and inclusive peace.
WHRDs and peacebuilders face threats and attacks due to their real or perceived identities and the issues they advocate for, particularly when they are perceived as challenging patriarchal norms or existing structures of power. In 2019, 40 WHRDs were killed for advocating for the protection and promotion of human rights.[2] WHRDs and peacebuilders today work in environments that are hostile to many of the issues they work on — including gender equality, sexual and reproductive health and rights (SRHR) and the rights of people with diverse SOGIESC, which compounds the effects of already closing space for civil society. Threats and attacks on HRDs in Colombia disproportionately impact Afro-descendant and Indigenous leaders, women leaders, and leaders promoting the Peace Accord.[3] Since 2016, approximately 23% and 9% of assassinated HRDs and social leaders, respectively, were Indigenous and Afro-Colombian, while 13.96% of total victims identified as women.[4] WHRDs have, therefore, increasingly become targets of violence and threats, including gender-based violence (GBV), in retaliation for their work.
Moreover, threats and attacks on WHRDs and peacebuilders serve as a deterrent to their participation and leadership, especially in contexts where women must already overcome cultural, political, economic or other barriers to entering public life.
There is also a clear trend of states using counter-terrorism or national security as a rationale to curtail anything that is perceived as dissent or criticism of governments, often presenting WHRDs as security threats. Increasingly, some states are trying to use the UN counter-terrorism architecture and the growing body of Security Council resolutions focused on counter-terrorism, as a basis for restrictions on civil society and crackdowns on HRDs, which can have far-reaching consequences as they place binding obligations on all countries.
Threats to HRDs and peacebuilders undermine global efforts to prevent conflict and sustain peace. The lack of recognition for the legitimate work of HRDs creates a context that enables all kinds of attacks to take place. Member States must, therefore, not only ensure protection from reprisals, including for cooperating with UN bodies, but when required, speak out publicly against such attacks to send an unequivocal message that they will not be tolerated. It is vital that the Security Council and Member States publicly recognize and promote the legitimacy of the work of all HRDs and peacebuilders and the role they play in defending human rights and promoting peace and security.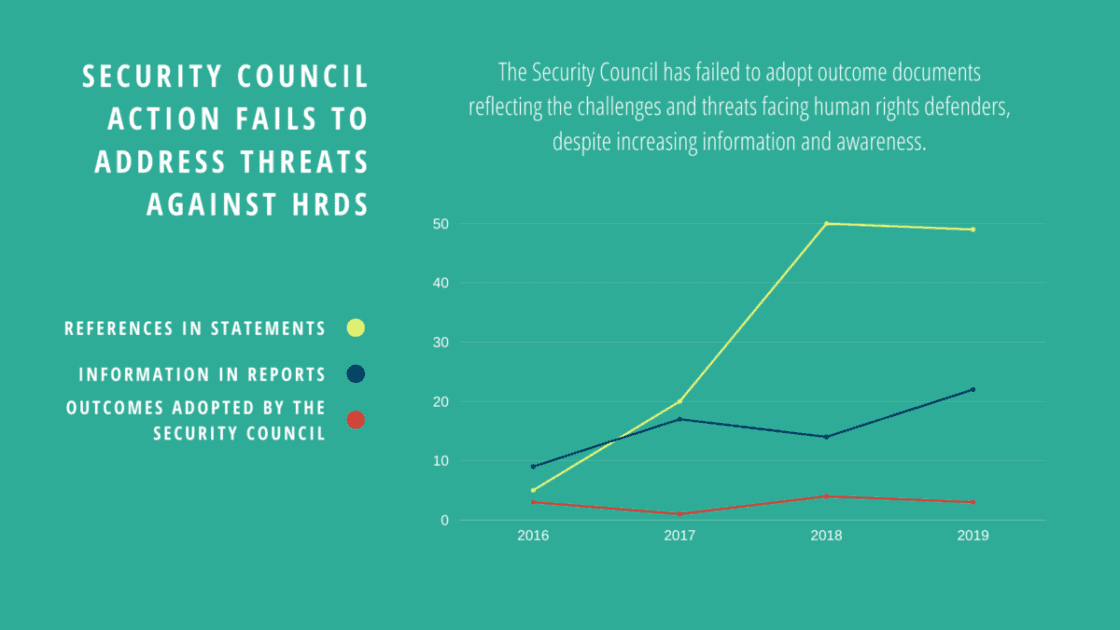 How has the Security Council addressed civil society?
Over the last 20 years, the Security Council has reinforced, acknowledged and highlighted the role of civil society more than 500 times in adopted resolutions and presidential statements, calling for Member States and the UN to work with civil society in conflict prevention efforts, peacebuilding, provision of humanitarian assistance and peace processes.
Yet, despite this broad acknowledgement, the Security Council has failed to adequately address the threats to civil society, including women's groups, or human rights defenders (HRDs), who are often targeted directly for violence or harassment, including through the use of security or counter-terrorism legislation. This mismatch between stated ideals and action is one of the clearest gaps in the Security Council's implementation of the WPS agenda. There were no references to women human rights defenders (WHRDs) in any outcome documents adopted by the Security Council in 2018 or 2019; further, references to HRDs decreased in outcome documents in 2019.[5]
Impact of counter-terrorism and security legislation on civil society
More than 140 countries around the world, the majority of the world's population, have counter-terrorism or security legislation that can be utilized to target civil society and HRDs.[6]
Between 2005 and 2019, 66% of all communications to the Special Rapporteur on the promotion and protection of human rights and fundamental freedoms while countering terrorism were on the use of counter-terrorism laws and policies to restrict civil society space, indicating an intentional targeting of civil society by governments around the world.[7]
According to Front Line Defenders, 58% of the cases in which they provided direct support to HRDs in 2019 included charges under security or counter-terrorism legislation.[8]
[1] ISHR, Reprisals and the Security Council, 2019. https://www.ishr.ch/news/reprisals-new-ishr-policy-brief-reprisals-and-security-council
UNGA, Situation of women human rights defenders: Report of the Special Rapporteur on the situation of human rights defenders (A/HRC/40/60), 2019.
UNGA, The Declaration on human rights defenders (A/RES/53/144), 1998.
[2] Front Line Defenders, Front Line Defenders Global Analysis 2018, 2019. https://www.frontlinedefenders.org/sites/default/files/global_analysis_2018.pdf
[3]Instituto Kroc de Estudios Internacionales de Paz, Tercer Informe sobre el Estado de Implementación del Acuerdo de Paz de Colombia, 2019, p.103. https://kroc.nd.edu/assets/321729/190523_informe_3_final_final.pdf
[4] Indepaz, Separata de actualización, Todos los nombres, Todos los rostros, 2019, pp. 25, 28. http://www.indepaz.org.co/wpcontent/uploads/2019/05/SEPARATA-DE-ACTUALIZACIO%CC%81Nmayo-Informe-Todas-las-voces-todos-los-rostros.-23-mayo-de-2019- ok.pdf
[5]NGOWG Policy Brief 2018
[6]CSIS, Counterterrorism Measures and Civil Society: Changing the Will, Finding the Way, 2018. https://csis-prod.s3.amazonaws.com/s3fs-public/publication/180322_CounterterrorismMeasures.pdf?EeEWbuPwsYh1iE7HpnS2nPyMhev21qpw
[7]Ní Aoláin, Impact of measures to address terrorism and violent extremism on civic space and the rights of civil society actors and human rights defenders: Report of the Special Rapporteur on the promotion and protection of human rights and fundamental freedoms while countering terrorism (A/HRC/40/52), 2019. https://undocs.org/A/HRC/40/52
[8]Front Line Defenders, Front Line Defenders Global Analysis 2018, 2019. https://www.frontlinedefenders.org/sites/default/files/global_analysis_2018.pdf