Women's full, equal and meaningful participation in all aspects of peace and security
"Madam President, let me be clear: there can be no democracy in Syria without women's full, equal and meaningful participation or without codifying women's rights and gender equality in any political process. Yet, these fundamental issues continue to be overlooked in formal, high-level processes to this day."
Sabah Alhallak, UN Security Council Briefing on Syria, November 2019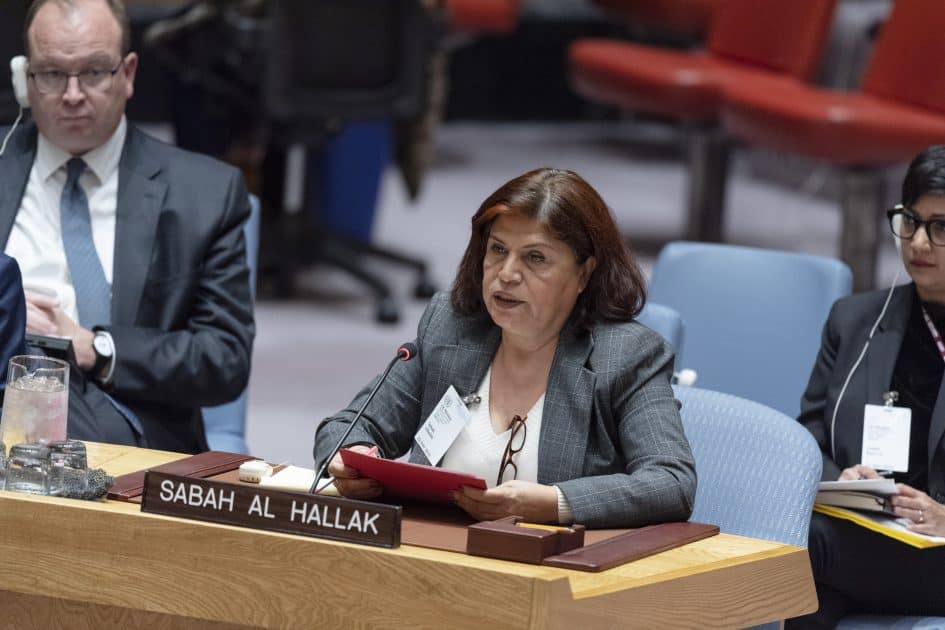 The exclusion of diverse women[1] from peace processes is unacceptable and results in peace agreements that do not reflect their rights, expertise, experiences or needs. Overwhelming empirical evidence confirms that inclusive peace processes are more durable, and that the participation of civil society, including women's organizations, makes a peace agreement 64% less likely to fail.[2] When women have a meaningful influence over the process, their participation has a positive impact on peace, security and the durability of peace agreements.[3] The exclusion of women, therefore, undermines peace. This means that (1) women must be included in all stages of all peace and security processes, and (2) women's rights and gender provisions must be a collective responsibility of all actors.
Full, equal and meaningful participation means direct, substantive, and formal inclusion of diverse women in positions of power so that they can influence the outcome of negotiations and other processes as well as their implementation. Consultation without the opportunity to influence the outcome of discussions is not meaningful; it must, therefore, include being able to set and shape agendas as well as experience tangible benefits from engagement.[4] Full, equal and meaningful participation must also be systematic, timely and transparent, and not limited only to peace negotiations, but inclusive of monitoring of agreements, political processes, constitution-building, economic development, transitional justice and reconstruction, as well as disarmament, demobilization and reintegration (DDR) and security sector reform (SSR). While informal, advisory, ad hoc or other means of inclusion besides formal inclusion can be useful, they are not, and must never be presented as, a substitute for direct, formal participation of women in leadership roles and decision-making structures and processes.
The meaningful participation of diverse women in all stages of all processes cannot be negotiated in each context or left to the efforts of individual actors; it must be a system-wide, fundamental component of all operations, and a clear directive to all UN agencies. This should be prioritized, resourced and institutionalized, including by providing relevant financial and political support, with clear procedures to ensure accountability and transparency when processes exclude women. We urge the UN, Security Council and Member States to support peace processes that include the meaningful participation of diverse women and to call out any processes that fail to do so.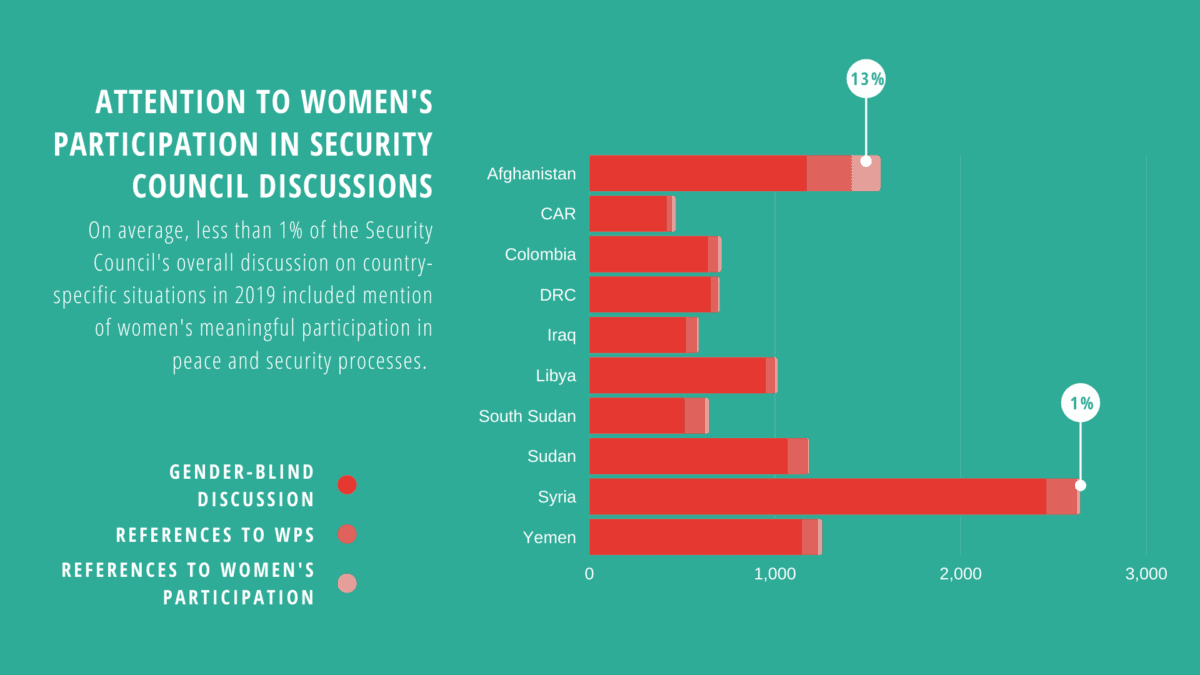 What is the status of women's meaningful participation in peace processes?
Formal peace processes have systematically failed to include women. Between 1992 and 2018, women only made up 3% of mediators, 4% of signatories and 13% of negotiators in major peace processes.[5] Further, only two women in history have ever served as chief negotiators: Miriam Coronel Ferrer of the Philippines and Tzipi Livni of Israel; only Coronel Ferrer has ever signed a final peace accord as chief negotiator.[6]
Women's participation in informal peace processes is considerably higher; 71% of informal peace processes surveyed in a recent study show "clear evidence of involvement" from women's groups.[7] Participation in informal processes, however, is not a substitute for formal participation.
Connecting the tracks within peace processes, and also ensuring women's full, equal and meaningful participation in formal roles with influence and authority, is critical to ensuring inclusive processes are the starting point for a country emerging from conflict; failing to do so replicates exclusion and discrimination that contribute to conflict and violence.[8]
[1] The term "diverse women" is inclusive of individuals from diverse backgrounds and groups, and representative of a range of identities, including age, marital status, pregnancy status, class, caste, race, economic status, indigeneity, ethnicity, religion, sexual orientation and disability.
[2] Nilsson, Anchoring the Peace: Civil Society Actors in Peace Accords and Durable Peace, 2012. https://www.tandfonline.com/doi/abs/10.1080/03050629.2012.659139?scroll=top&needAccess=true&journalCode=gini20
[3] IPI, Reimagining Peacemaking: Women's Roles in Peace Processes, 2015. https://www.ipinst.org/wp-content/uploads/2015/06/IPI-E-pub-Reimagining-Peacemaking.pdf
[4] Amnesty Intl., et. al., Beyond Consultations Tool, 2019, p. 7. https://www.beyondconsultations.org/
[5]Council on Foreign Relations, Women's Participation in Peace Processes, 2019. https://www.cfr.org/womens-participation-in-peace-processes/
[6]Council on Foreign Relations, Women's Participation in Peace Processes, 2019. https://www.cfr.org/womens-participation-in-peace-processes/
[7]Dayal and Christien, Reframing Women's Roles in Peace Processes: Beyond the Negotiating Table, 2020. https://giwps.georgetown.edu/wp-content/uploads/2020/04/Beyond-the-Negotiating-Table.pdf
[8]Dayal, Connecting Informal and Formal Peace Talks: From Movements to Mediators, 2018. https://giwps.georgetown.edu/resource/connecting-informal-and-formal-peace-talks/
[9]Resolution 1325 (2000), OP 2; Resolution 1820 (2008), OP 12; Resolution 1889 (2009), OP 1; Resolution 2106 (2013), OP 5; Resolution 2122 (2013), OPs 1, 7; Resolution 2242 (2015), OP 1; Resolution 2467 (2019), OP 20; Resolution 2493 (2019), OPs 2, 3, 9(a); CEDAW, Arts. 7-8.
[10] Resolution 2242 (2015), OP 1.