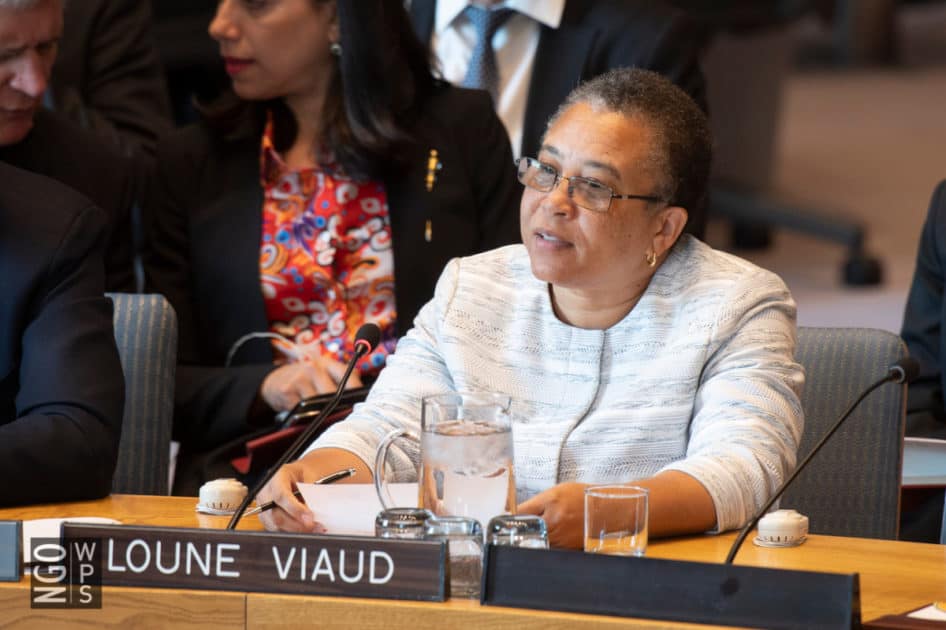 In October 2020, women activists, peacebuilders and human rights defenders along with UN Member States and agencies, will celebrate the 20th anniversary of the adoption of UN Security Council Resolution 1325 (2000) and the establishment of the WPS agenda. 
20 years since the adoption of Resolution 1325, despite the fact that conflicts disproportionately impact the health, safety and human rights of women and girls, they remain excluded from decision-making processes that determine their future. Specific provisions on women and gender were almost universally absent from ceasefire and peace agreements resulting from UN-led or co-led processes in 2018. Nearly five years since the three peace and security reviews in 2015, only 50% of the recommendations on WPS directed towards the UN have progressed, and only two recommendations out of 30 were fully implemented (S/2019/800). Meanwhile, within the very bodies tasked with protecting human rights and maintaining international peace and security, we have witnessed increasing and direct attacks on core principles of international humanitarian and human rights law, including as they apply to sexual and reproductive rights, and sexual orientation, gender identity, gender expression or sex characteristics (SOGIESC). 
As we highlighted in our Policy Brief 2018, the Security Council is far from meeting its WPS obligations 20 years since the inception of the agenda. Despite some progress, WPS is often tokenized and only addressed at the most superficial of levels.
The continued ad-hoc and inconsistent implementation of the WPS agenda over the last two decades by the Security Council reflects a selective approach to WPS and a lack of accountability for meaningful implementation of the agenda. Without civil society briefers raising WPS issues in their statements, our analysis shows that there would be far fewer references to WPS and that those references would be less substantive. We found a clear correlation between civil society briefers raising specific WPS issues, and those issues being addressed by Council members.[1]
The Security Council continues to make decisions based on information that is mostly gender-blind. Less than 10% of WPS references in reports of the Secretary-General could be considered "analytical" — failure to embed intersectional, gender-sensitive conflict analysis in reports of the Secretary-General is contrary to guidance provided on reporting and internal good practice.[2]
Women's experiences tend to be instrumentalized at the Security Council, and violations of women's rights are used to illustrate the seriousness of specific conflict situations and justify certain Council actions, rather than to meaningfully promote protection of women's rights. Women's participation in peace and security processes is also instrumentalized by use of the argument that their participation is necessary in order to make peace processes more effective, rather than that women have a right to equal participation in all areas of decision-making.[3]
Over the last 20 years, several studies have found that gender inequality is a key predictor of conflict and instability — gender inequality increases the likelihood of conflict, and countries with weak human rights standards "are more likely to have militarized and violent interstate disputes."[4] A recent analysis found that 79% of armed conflict in situations for which there is data on gender equality took place in contexts with medium, high or very high levels of gender discrimination.[5] Relatedly, strong feminist movements are also predictors of, and contributors to, efforts that reduce gender inequality.[6] Addressing gender equality, as well as inequality more broadly, is therefore essential to preventing conflict, and requires, at its core, protection and promotion of human rights and efforts to address discriminatory structures and institutions.
In addition, as has been widely recognized and as we highlighted in our article on why women's rights must be central to responses to COVID-19, the current pandemic is amplifying existing gender, racial, economic and political inequalities, and impacting those most marginalized, including people with diverse SOGIESC, people with disabilities, the elderly, the poor, and the displaced. Women are impacted due to their role as primary caregivers or healthcare workers and are often less likely to be able to meet their own needs due to structural inequalities. As for women and girls in conflict-affected communities, COVID-19 is likely to hit them harder — as recognized by the UN Secretary-General, there has been an alarming surge in gender-based violence (GBV); combined with restrictions to essential services, such violence compounds existing risks for women and girls.[7] The current pandemic underlines why preventing all forms of GBV against women requires ensuring the autonomy of those who are targeted and the full scope of their human rights, as well as the importance of enabling them to lead and contribute to the solutions to the crisis, rather than only seeking to protect them from violence. 
The upcoming anniversary of the WPS agenda must be a call to action to the UN, Security Council and Member States to redouble their commitment to fully implement and advance the WPS agenda, defend the full scope of human rights, and galvanize efforts to address clearly identified gaps. 
As a coalition dedicated to peace, gender equality and women's rights, we firmly believe that the following six principles should guide any action:
With the above principles in mind, below we share concrete recommendations on how the UN, Security Council and Member States can advance WPS in five key areas in advance of the 20th anniversary of the adoption of Resolution 1325.
[1]NGOWG on WPS, Mapping Women, Peace and Security in the UN Security Council: 2018, 2019. https://www.womenpeacesecurity.org/files/NGOWG-Mapping-WPS-in-UNSC-2018.pdf
[2]NGOWG on WPS, Mapping Women, Peace and Security in the UN Security Council: 2018, 2019. https://www.womenpeacesecurity.org/files/NGOWG-Mapping-WPS-in-UNSC-2018.pdf
[3]NGOWG on WPS, Mapping Women, Peace and Security in the UN Security Council: 2018, 2019. https://www.womenpeacesecurity.org/files/NGOWG-Mapping-WPS-in-UNSC-2018.pdf
[4]Herbert, Links between women's empowerment (or lack of) and outbreaks of violent conflict, 2014, p. 2. https://gsdrc.org/publications/links-between-womens-empowerment-or-lack-of-and-outbreaks-of-violent-conflict/
Report of the Secretary-General on WPS (S/2019/800)
Report of the Secretary-General on sustaining peace (S/2018/43, para. 27)
Report of the Secretary-General on conflict prevention in Africa (S/2018/566, paras. 14-15)

[5]Escola de cultura de pau, Gender, Peace and Security, 2019. https://escolapau.uab.cat/img/programas/alerta/alerta/19/cap03i.pdf
[6]Weldon & Htun, Feminist mobilisation and progressive policy change: why governments take action to combat violence against women, 2013. https://www.tandfonline.com/doi/full/10.1080/13552074.2013.802158
[7]UN, UN chief urges unity in mobilizing 'every ounce of energy' to defeat coronavirus pandemic, 2020. https://news.un.org/en/story/2020/04/1061012
[8]Resolution 1325 (2000); Resolution 1820 (2008); Resolution 1888 (2009); Resolution 1889 (2009); Resolution 1960 (2010); Resolution 2106 (2013); Resolution 2122 (2013); Resolution 2242 (2015); Resolution 2467 (2019); Resolution 2493 (2019).
[9]Coomaraswamy, Preventing Conflict, Transforming Justice, Securing the Peace: A Global Study on the Implementation of United Nations Security Council resolution 1325, 2015. https://wps.unwomen.org/resources/
[10]High-level Independent Panel on Peace Operations, Report of the High-level Independent Panel on Peace Operations on uniting our strengths for peace: politics, partnership and people, 2015. http://undocs.org/S/2015/446
Coomaraswamy, Preventing Conflict, Transforming Justice, Securing The Peace: A Global Study on the Implementation of United Nations Security Council resolution 1325, 2015. https://wps.unwomen.org/resources/
Advisory Group of Experts on the Review of the Peacebuilding Architecture, Challenge of sustaining peace: Report of the Advisory Group of Experts on the Review of the Peacebuilding Architecture, 2015. https://undocs.org/A/69/968